Crypto Blades: Guide and Review of the Interactive Play-to-Earn Game
In the cryptocurrency space, the Play-to-Earn (P2E) gaming business has developed into a potent idea as non-fungible tokens took off and established a new market niche.
One of the most popular uses for blockchain-based technologies has always been gaming. Even though it's still young, GameFi has already shown that gamers like the model.
For instance, hundreds of thousands of people were interested in the blockchain and web-based NFT roleplaying game Crypto Blades. To optimize transaction efficiency and enhance user experience, it was first implemented on the BNB Chain (BSC) and then spread to other networks. Additionally, Crypto Blades was recognized as the Most Valuable Builder inside the BSC incubator.
What Is CryptoBlades (SKILL)?
A pioneering blockchain-based NFT RPG game called CryptoBlades was introduced on Binance Smart Chain and created by the renowned video game studio Riveted Games.
Who Created CryptoBlades?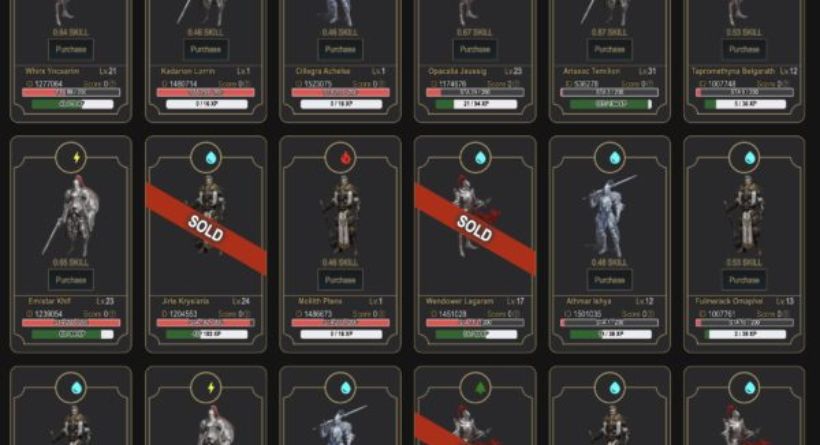 Riveted Games is the name of the video game firm that created CryptoBlades. The company was established in 2014, and some of its main personnel are:
Philip Devine – Owner of Riveted Games, CEO at CryptoBlades
Devine established Riveted Titles in 2014, and since then, the company has published several games on Steam, the biggest independent video game store in the world. He was the one who created the team from the bottom up and has a background in development.
Daniel Karsai – Lead Game Developer
In addition to programming, game design, Unity, 3D graphics, and blockchain development, Daniel joined Riveted Games in 2016. He has also contributed to titles like Nations at War, Spoxel, and the distinguished space simulation game Lightspeed Frontier.
Kyle Kemp – Lead Front-End Developer
Kemp is CryptoBlades' principal front-end developer. He is among the top 0.1% of users for star ratings on Github and is the author of over 108 repositories there. Kemp, a well-known front-end developer in the world, is in charge of the user interface and continuously improves gaming as a whole.
The team also includes Chief Operating Officer (COO) Nick Newcomer, Chief Financial Officer (CFO) David Diebels, and Chief Marketing Officer Aaron Hutton (CMO).
How Does CryptoBlades Work?
Users of CryptoBlades have access to a site where they may fight and earn prizes. Winners receive SKILL tokens after engaging in combat. To increase their overall power, players can use additional characters, special weaponry, and tool upgrades on them. Players can trade their avatars and gear on an open market. In addition, they can wager their SKILL tokens. According to the official website, CryptoBlades has a total of 2901 holders and a $1,874,392 market value.
Cryptoblades guide: Gameplay
Getting Started
Users must open Cryptoblades and link their wallets before they may play. To buy BNB and trade it for SKILL in ApeSwap, you need a Binance account. Direct purchases and transfers of BNB may be made to your Metamask wallet. The exchange can then be done by users. Players can mint their first character and weapon after switching. Nevertheless, players may only purchase up to three weapons and a maximum of four characters, depending on their financial situation. Additionally, players should always make sure they have enough skills on hand to pay for petrol.
Characters
In the Plaza, where the gameplay begins, the first people and weapons are created. The first character starts with 200 stamina and a beginner's weapon. Characters, foes, and weapons all have a certain aspect that may either make or break a battle. Which are:
Fire (stronger than Earth but weaker than Water) (stronger than Earth but weaker than Water)
Earth (stronger than Lightning but weaker than Fire) (stronger than Lightning but weaker than Fire)
Lightning (stronger than Water but weaker than Earth) (stronger than Water but weaker than Earth)
Water (stronger than Fire but weaker than Lightning) (stronger than Fire but weaker than Lightning)
Weapons
Players are allowed to carry an infinite number of weapons, which may be found in the Blacksmith department. They are NFTs that may be traded with other players or sold on the market. Weapons may be paired to complement your character depending on its elemental makeup to boost your chances of success. Each weapon tier's odds of minting depend on a certain star system. Five stars are 1%, and one star is 44%. As a bonus, players may burn weapons to get Dust, which they can then reforge with new weapons.
Combat
Characters engage in combat with monsters in the Cryptoblades world. Here, you may equip various weapons and view your opponent's stats. The most difficult battles yield the largest rewards for the players. Just pick an opponent, match them, and sign the deal. Players must enter the Arena to participate in PVP mode. In this scenario, if you win or successfully repel an attack, you receive ranking points and SKILL prizes. In the Raid mode, players may also work together to defeat enemies.
Kingdoms
Another component of the game that will soon be live is Kingdoms. The KING token is employed in this NFT game. It has dungeons where users may earn rewards that change every week. Users may build an empire and increase their power by starting with a little town. Villages may be able to hire missionaries after a few weeks. The domains of four rivaling countries contain the Kingdoms.
CryptoBlades Marketplace – the Bazaar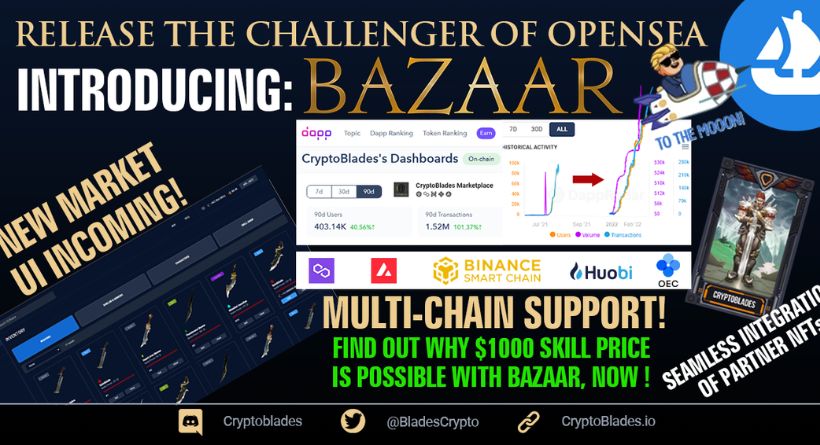 The CryptoBlades marketplace, known as The Bazaar, is where you may purchase and sell things and characters. It appears as follows:
You may filter the options and focus your search, as you can see. Then, all you have to do to get started is connect a wallet to a few tokens.