Stripe vs Shopify: Differences & Which to Choose in 2023
It might be challenging to compare Stripe vs Shopify on an apples-to-apples basis. Unlike Stripe, which is a configurable payment processor without an integrated point-of-sale (POS) system or e-commerce software, Shopify is an e-commerce platform with integrated payment processing. However, neither needs a separate merchant account and is simple to use, has great user reviews, and can handle international purchases.
To summaries, we suggest Stripe with Shopify for:
Stripe: When you want an online sales-focused payments platform
Shopify: When running a retail or e-commerce firm, you need an e-commerce platform with POS and payment capabilities.
What is Stripe?
Businesses may take online payments with Stripe, an industry-leading payment gateway and processor. It was established in 2010 and has grown swiftly to become one of the most well-known platforms for payment processing.
With over 135 different currencies supported, Stripe enables companies to take payments from clients all around the world. With a market share of 19.44% in 2023, Stripe is second only to PayPal in the payment processing industry.
What is Shopify?
A business may develop an online store and sell its items using the Shopify eCommerce platform. It was established in 2004 and has since grown to be one of the most well-known eCommerce platforms worldwide. Shopify enables companies to control their online store, keep track of their inventory, handle orders, and take payments.
With a market share of 12.42 percent in the payment processing industry, Shopify Pay Installments is among the top 5 suppliers of payment solutions.
What's the difference between Stripe vs Shopify?
Before comparing the two platforms' payment capabilities, it's important to understand that the Stripe vs Shopify discussion doesn't make a straight comparison.
You may receive payments for transaction fees using Stripe, a safe payment service provider. On the other hand, Shopify offers you the necessary tools for setting up and operating an online business.
Are Shopify Payments the same as Stripe?
Although Shopify Payments doesn't really offer the same concept as Stripe, it does in theory.
In summary, Shopify Payments works best for business owners whose e-commerce stores are already hosted on the Shopify platform. This is due to the fact that transaction costs can be reduced. When it comes to payment options, Stripe is more adaptable because it can be used whether or not you have an online business.
Payout schedules compared
You can find out when you may get your account cash by looking at payout schedules. These can change depending on your industry, the nation in where you do business, and other variables.
Stripe
For the first successful payment, Stripe typically offers a 7–14 day payout plan. After that, payments will be sent in accordance with the payout schedule you've set up in your account. You may visit your account to see the anticipated payout dates and, if necessary, change your plan.
Shopify Payments
When using Shopify Payments, a single payment will be sent to your account on Fridays, Saturdays, and Sundays (UTC time).
You may withdraw money with Shopify Balance in only one business day. If clients utilize the Shop Pay installments at checkout, you may get your money in three working days.
If not, money will be sent in accordance with the payout schedule you specified for your account.
Accepted payment methods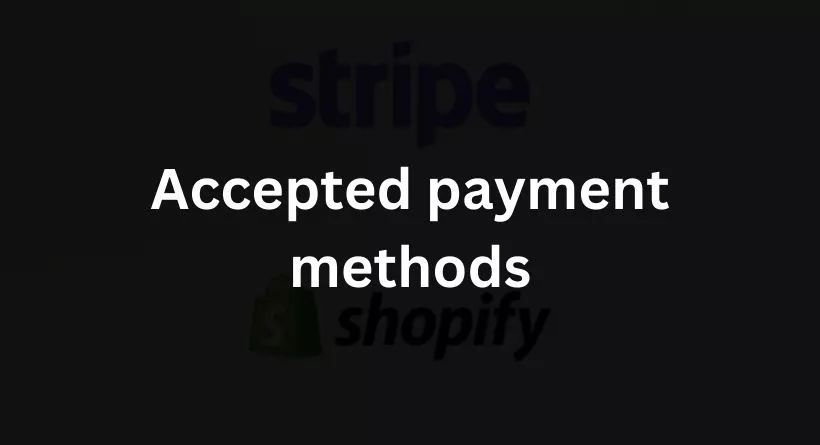 In order to serve your consumers, it is in your best interest as a merchant to provide a variety of payment options. You can lose out on sales if you restrict the methods people can purchase your goods.
Stripe
Like the majority of payment processors, Stripe accepts all major credit and debit cards, but it also provides a number of additional payment options. For instance, you may use cryptocurrencies, cash vouchers, and the ever-popular BNPL (Buy Now Pay Later) approach.
Shopify Payments
Despite having fewer payment alternatives available, Shopify Payments still includes the most widely used ones, including credit cards and third-party payment processors. Additionally, Shop Pay is available, which offers customers of Shopify lower rates.
Ease of use
The simplicity with which a service may be implemented and payments accepted through platforms is referred to as ease of use.
Stripe
You have several alternatives using Stripe to set up consumer payments. You have three options for accepting payments: bespoke invoices, the Stripe Terminal, or custom payment forms.
If you use an e-commerce platform, you may also rely on payment connectors to accept payments right from your online store.
With Stripe, creating an account only takes a few minutes, and there's no need to provide any financial information or agree to a contract.
Shopify Payments
All you need is a Shopify membership to use Shopify Payments. You may begin collecting payments as soon as Shopify Payments is enabled in your account.
With the service, you may collect payments via your website's purchase links, your e-commerce checkout page, or card readers that connect to the iOS or Android applications.
Also Read: 6 Sales Dashboard Examples That'll Help You Set Up Your Own
Conclusion
The decision between Stripe and Shopify ultimately comes down to your technical know-how and company needs. Shopify is unquestionably the victor if you prioritize a quick and simple setup with a robust e-commerce platform. On the other side, Stripe can be the best option if you want flexibility in payment methods and don't mind some technical implementation.
I advise you to think about your business objectives, target market, and long-term plan while making this choice as a specialist in e-commerce and SEO. Regardless of the service you choose—Stripe or Shopify both have a solid track record—you can be confident that your consumers will have a flawless buying experience.
FAQs
Is it possible to utilize Shopify and Stripe simultaneously for my online store?
You can, indeed! In reality, many companies use both platforms to take advantage of each one's advantages. The simplicity of Shopify and the payment flexibility of Stripe may be combined when you connect Stripe as a payment gateway within your Shopify store.
Does using Shopify need technical knowledge?
In no way! Shopify's user-friendly interface, which enables even beginners to effortlessly develop and manage their online businesses, is one of its key features. Although you don't need to know how to code, you may further customize your store if you have a developer on staff.
Are Stripe and Shopify Payments subject to any transaction fees?
Transaction fees are charged by both systems, however, the amounts might change. While Shopify Payments rates are based on your selected plan, Stripe transaction fees are based on your company volume. It's crucial to evaluate the costs and select the one that best fits your anticipated sales.
Can I move in the future from Stripe to Shopify Payments or the other way around?
It is possible to change payment gateways if your company's demands change or if you want to try out new services. Although there are migration methods available for both platforms, it is best to prepare ahead and think about how the change may affect your consumers.