As consumer preferences shift towards more flexible and personalized purchasing options, subscription-based business models have become increasingly popular. However, for business owners who are new to this model, it can be challenging to understand how it works and how to implement it effectively.
The problem is that without a clear understanding of the subscription business model, small business owners may miss out on the benefits of recurring revenue streams and customer loyalty.
The solution is to understand the key elements of a subscription-based business model and how it can be adapted to different industries and business types. This includes developing pricing strategies, creating compelling subscription offers, and leveraging technology to manage subscription billing and customer data.
Our promise is to provide a comprehensive overview of the subscription business model, including how it works and the benefits it offers for small businesses. We will also offer practical tips and guidance for implementing a subscription-based business model, including how to attract and retain subscribers, and how to measure and optimize performance. With our guidance, small business owners can explore new revenue streams and build long-term customer relationships through the subscription business model.
What is a subscription business model?
Customers that use your products or services on a subscription basis pay a weekly, monthly, or annual price. This business model generates recurring income. Following a predetermined amount of time, customers can renew their subscription. With this technique, you may use the connections you have with your clients to generate a consistent flow of cash.
The firm and the client both profit from subscription-based revenue structures. As a client, you have the convenience of automatically renewing a contract for a good or service you anticipate using again soon. Instead of needing to re-engage clients more frequently, a firm may retain them for future transactions. You guarantee monthly recurring revenue (MRR), which can sustain your company through the most trying circumstances.
A subscription model may be a very successful and profitable way to operate your business for the correct product, brand, and sector.
In the part after this, we'll learn a little more about how this business model functions.
How a Subscription Model Works
Customers that use a subscription model are billed repeatedly for a good or service. Each offer is customized to the length of time and frequency desired by the customer, and most subscriptions allow the flexibility to renew or terminate at any time.
Consider a subscription as a legal agreement between you and the subscriber. As long as the consumer makes all of their monthly payments, the firm honors their pledge to provide a good or service for a set length of time. The consumer has the choice to either renew or cancel their membership when the contract expires.
What this looks like is shown in the diagram below: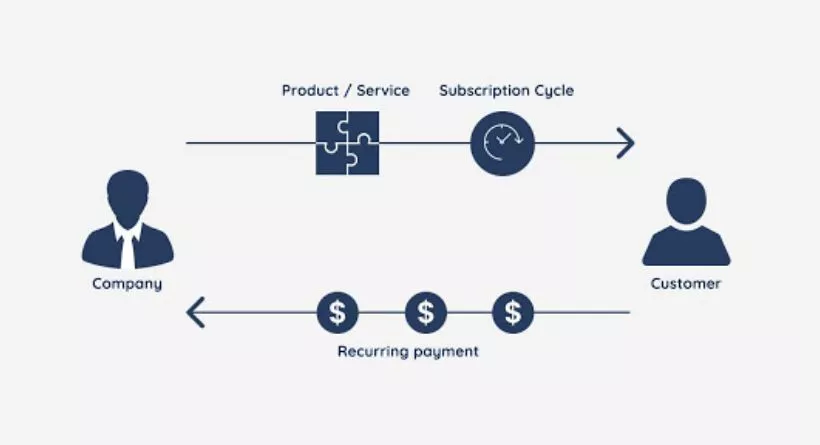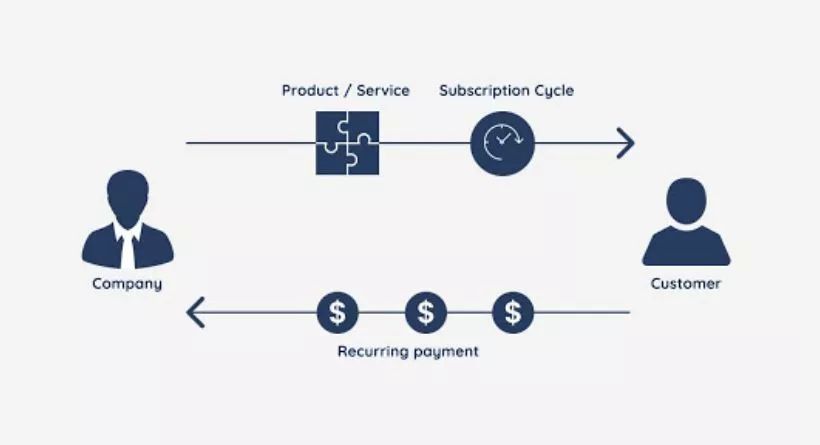 Your local newspaper is a fantastic illustration. Although you may buy newspapers separately, the majority of people who read them have subscriptions. By doing this, you may avoid having to go to the shop to buy a newspaper by having one delivered to your front door for a set price.
In the following part, we'll talk about some additional advantages of subscription models.
Benefits of a Subscription Business Model
1.    Subscription models are convenient for customers.
Everyone is busy. Additionally, if they can easily and quickly receive a product (that they enjoy) when they need it, sign them up. A more seamless consumer experience is created via subscriptions, which spare users from having to look for new items and shop for them in physical locations.
2.    Customers can discover new products.
People not only save money by not having to make the trip to the shop, but they also get to test new products that they may not have bought otherwise.
Consider Snack Crate, where you can get boxes of snacks from all around the world. You could find a new favorite food with this subscription that you had no idea existed.
3.    Businesses can accurately predict revenue.
How much money your company will generate each month can be predicted considerably more easily with subscription business models. Since your consumers are paying you frequently, you are aware of when and how much each payment will be for. This can assist you have a precise depiction of your company's resources when you're incorporating budget into your business plan.
4.    Subscriptions can attract more customers.
A consumer may occasionally find the cost of a product or service burdensome. You may set the price at a more reasonable level and allow customers to budget it into their regular expenditures by charging weekly, monthly, or yearly.
Consider purchasing a vehicle. You'll probably be put on a payment plan where you'll make incremental payments over time if you don't buy it outright. Even if you can't immediately pay the automobile's full price, this enables you to afford the cost of the car.
5.    Subscriptions decrease customer acquisition costs.
Subscription business models let you conduct business with customers who already know and trust your brand, as opposed to reaching out to new clients who don't. This lowers your marketing expenses and frees you up to concentrate more on word-of-mouth advertising. The effectiveness and cost of this word-of-mouth marketing are often higher than those of promotional advertising.
6.    Businesses build stronger relationships with their customers.
Working with repeat clients allows you to establish better bonds with them over time, which is another advantage. Customers learn to trust your staff when they receive exceptional customer care from your service team on a consistent basis, and they get used to doing business with your company. When clients must choose whether or not to renew their membership, this is crucial.
Let's look at the measures you can take to develop a subscription business model for your firm now that you are aware of its advantages.
How to Build a Subscription Model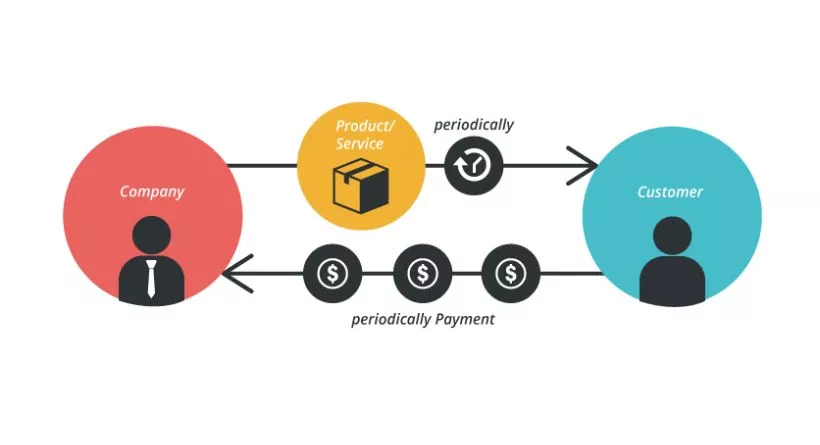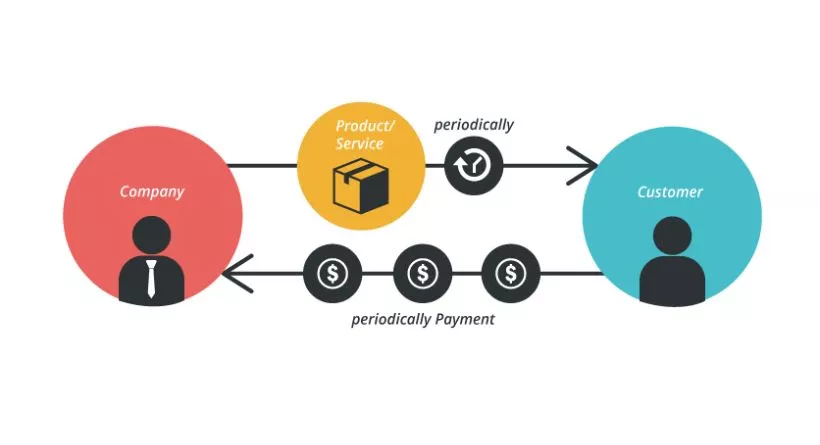 1.    Figure out if your business would benefit from offering subscriptions.
Determine whether giving subscriptions for your products and services makes sense before developing subscription packages for your business. Do you offer goods that consumers must constantly access? Software items, ongoing services (such consultancy or content creation), and exclusive media are among examples.
Or is the product a tangible good that requires repeat purchases from customers? Snacks, literature, and everyday items may be eligible here. Go to step two after determining whether a subscription model would be advantageous for your goods and services.
2.    Establish a goal for your subscription-based business.
Your procedure for developing subscription packages and pricing levels will be guided by the appropriate aim. For instance, do you want to expand your small company clientele or are you more interested in luring high-value consumers like enterprise businesses? Or perhaps you want to enhance client retention, expand income by a certain percentage, or boost sales for a certain product.
You'll select a price structure based on your objectives in order to assist you draw in the customers you want to keep. It will also assist in choosing the appropriate language for your website material.
3.    Choose a subscription pricing strategy.
You may decide on a certain subscription pricing plan depending on the characteristics of your product and your objectives while developing your subscription model. For instance, if selling more user seats is your primary objective, you may choose a per-user price structure that gives organizations with more users a subscription discount.
The enjoyable part comes next: designing your membership tiers and bundles. You may start by developing only one bundle to launch your subscription-based business model if you choose to keep things straightforward. You may develop several packages that cater to various sectors as you gather more client feedback and understand their preferences.
4.    Improve the user experience to get more sign-ups.
A subscription plan should be simple, easy, and uncomplicated to sign up for. When clients visit your website and social media pages, you don't want them to be confused about how to subscribe. Put a call-to-action button above the fold and in the upper right corner of your home page.
Prospects should be able to determine which package to select once they reach the price page based on the language and costs associated with each subscription level. (Hot tip: Get some great price page inspiration by looking at these samples.)
There should be a live chat or email option to contact your staff if there is any misunderstanding. Confusion should not, under any circumstances, prevent conversion.
5.    Create a seamless onboarding experience.
Depending on the kind of goods you're selling, the onboarding procedure will appear different. If you offer software, for instance, the onboarding procedure could take place in-app using hints.
Examine the box labeled "Monitor deals & coach reps." This little box provides a brief overview of the content on the page.
If you offer actual goods, you may do the onboarding process by email or postal mail. Customers may receive a box of sweets or a welcome note with resources.
6.    Make the billing process simple and easy.
You're sure to see several renewals thanks to your well-designed packages, first-rate onboarding, and exceptional customer support. Therefore, you should ensure that your billing system is configured such that recurring payments may be readily accepted and processed.
To save your consumers from having to go through several URLs in order to renew their membership, you should have a payment gateway directly on your website or mobile application. A renewal is an opportunity to improve your customer relationships and give your clients more benefits. For long-term clients, you may even think about including a few extra treats or special features.
Let's have a look at a few businesses that have introduced profitable subscriptions now that you are aware of how to create a successful subscription business strategy.
Examples of Subscription Business Models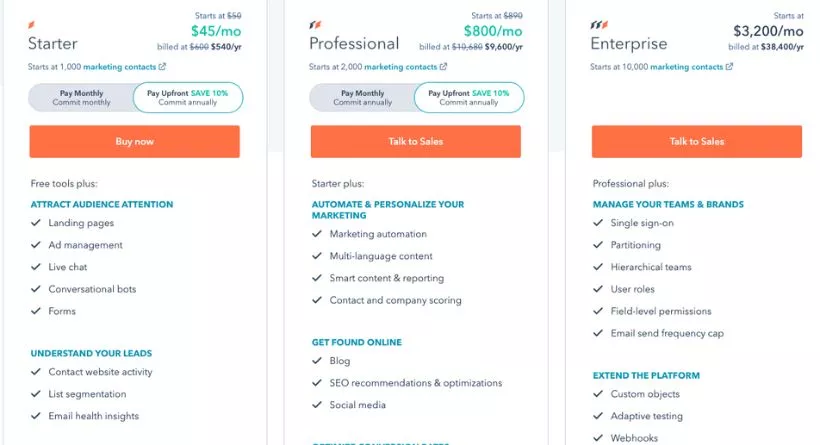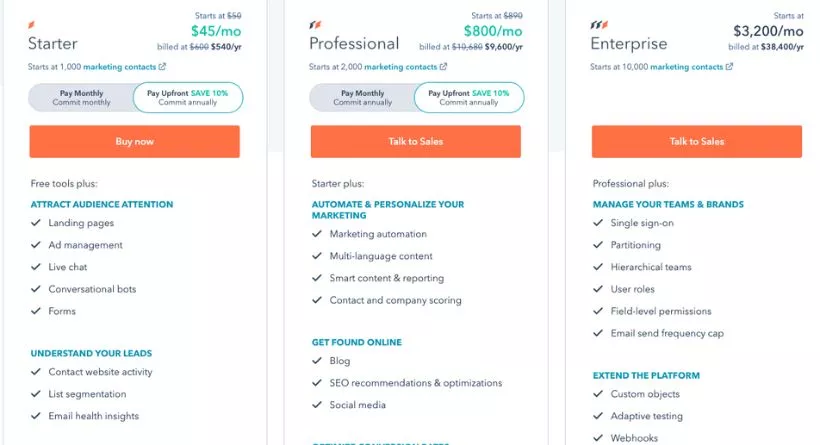 Subscription Box Business Model
One form of business strategy that has gained a lot of popularity is subscription boxes. Customers get a box loaded with numerous things that are occasionally connected to one another and sometimes not every month. Usually, the total cost of these things exceeds the cost of the box.
Some businesses allow the consumer pick what will be in the box, while others provide them a surprise while introducing them to new things they would not have looked for on their own. This is a fantastic technique for a company to introduce all of its items to its consumer base.
Subscription Box Example: Butcher Box
Customers of the subscription box service Butcher Box receive monthly supplies of meat. Different pieces of meat are included in each box, along with a few methods you may use to prepare them. This is a fantastic opportunity for meat eaters and BBQ fans alike to experiment with various cuts of meat they may not have previously cooked or tasted.
Streaming Service Subscription Model
For a monthly fee, streaming services provide you access to media including movies, television, and music. Customers may get all of the entertainment material they want anytime and wherever they want thanks to this approach.
Streaming Service Subscription Example: Hulu
You may watch movies and TV episodes from your computer, phone, or smart device using the well-known streaming service Hulu. Additionally, you may access material while on the road, allowing you to watch your preferred programs even when you are not at home. Hulu has emerged as a go-to entertainment choice for cord-cutters seeking to cut the cord because to its adaptability and affordable price.
Food Service Subscription Model
Consider a meal service subscription if you wish to change up your usual dining habits. These businesses not only bring meals to your house but also provide you cooking instructions. Even if you have no prior culinary expertise, you will still receive the supplies and instructions necessary to prepare a home-cooked supper in this manner.
Food Service Subscription Example: HelloFresh
A whole meal's worth of ingredients are delivered by the food subscription service HelloFresh. Each box contains food that has been packaged individually and is portioned out according to the recipe's specifications. Since all of your goods are already measured and prepackaged when you receive the box from HelloFresh, you may avoid spending time on preparation.
Health and Wellness Subscription Model
Tired of making the daily trip to the gym for exercise? For a set monthly cost, you may have access to courses, trainers, and exercise equipment with a health and wellness subscription.
Health and Wellness Subscription Example: Yoga International
Yoga International is a virtual yoga studio where you may take engaging exercise programs while lounging at home. You don't have to exercise at certain times or locations because a gym has a predetermined schedule.
SaaS Subscription Model
The most popular kind of subscription model on the market right now may be a SaaS model. Google Workspace, HubSpot, Adobe, and Slack are all subscription-based services, which means you must pay a monthly price to use their programs. You can only use the software until the end of the current monthly cycle if and when you cease paying.
Due to frequent updates and improvements, many software businesses adopt subscription-based business models. They employ a software subscription approach, which enables them to make changes without impairing the user experience, as opposed to requesting customers to repurchase the product each time one is made.
A Subscription Business Model Will Help Your Business Grow
This is but a sample of the sectors that stand to gain from a subscription-based business strategy. With a little imagination and the appropriate strategy, you can discover that this strategy generates happier clients and higher customer retention rates for your company as well, enabling you to expand dramatically.