Enhancing in-store customer engagement is a critical aspect of a successful brick-and-mortar retail business, particularly with the increasing trend of online shopping. Therefore, physical retailers must stay up-to-date with the latest industry trends to effectively capture the attention of shoppers at the point of purchase.
Discover the most recent visual merchandising trends in this article, as we explore the optimal techniques for showcasing your products and captivating the attention of potential shoppers. Learn how to create eye-catching displays that entice customers and foster long-term loyalty to your brand.
What is visual merchandising?
Before delving into the latest visual merchandising trends, it's important to recap its significance as a marketing strategy. Visual merchandising refers to the strategic arrangement of products in a way that grabs shoppers' attention, boosting their likelihood of making a purchase. Apart from catching shoppers' eyes, visual merchandising also streamlines their shopping experience by making it easier to find what they need. From eye-catching displays to well-organized shelves, retailers leverage a variety of visual merchandising tools to attract customers and increase sales.
Incorporating visual merchandising into your store is crucial because 90% of information transmitted to the brain is visual. Shoppers tend to recall the color, arrangement, and display of products over the text on a display. Moreover, visual cues make it easy for customers to locate products in-store, with shoppers likely remembering which aisle corresponds to which category. Thus, frequently changing the location of products may not be a wise decision. For further insights, read our article on The Power of Visual Merchandising in Grocery Stores, and don't forget to check out our Tokinomo tip.
Brick-and-mortar retailers face fierce competition from eCommerce platforms that offer dynamic and customizable interfaces, eliminating the need for product arrangement. To stand out and attract customers, physical retailers must stay up-to-date with the latest visual merchandising trends. By incorporating innovative techniques and creating eye-catching displays, retailers can effectively engage shoppers and encourage them to make a purchase.
Visual merchandising trends in 2022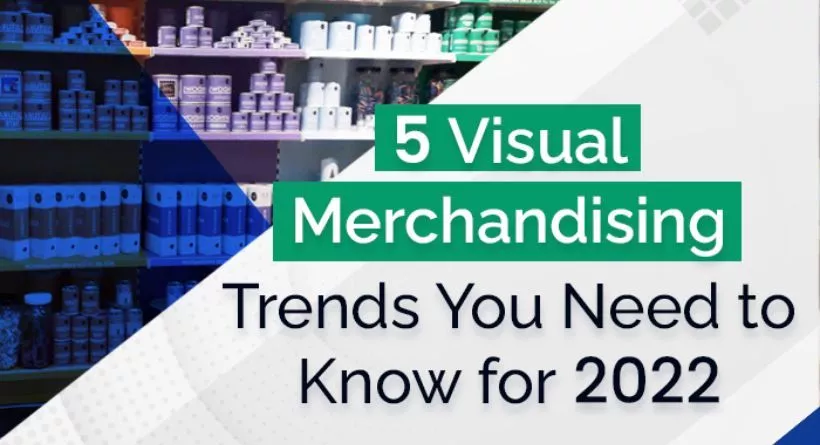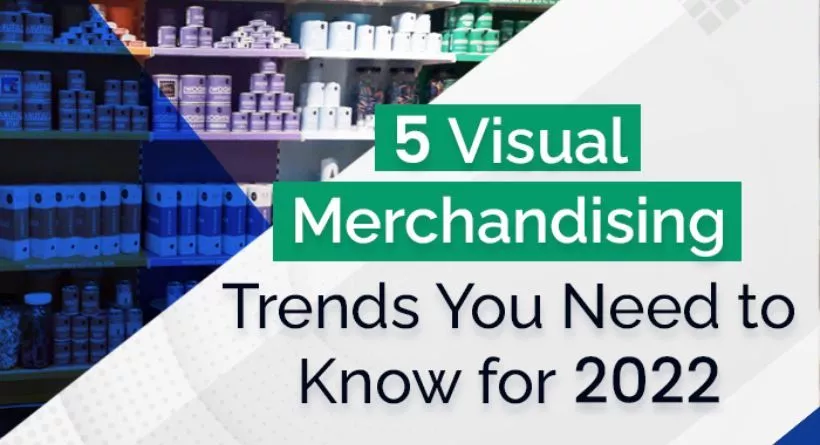 Staying ahead of the competition in the retail industry requires keeping track of and experimenting with the latest visual merchandising trends. As we move into 2022, let's explore the innovative techniques and strategies for in-store visual merchandising that can help your business stand out and captivate shoppers.
1. Experiential merchandising
Experiential marketing, or retailtainment, has been a topic of discussion for quite some time. Now, it's time to shift our focus to experiential merchandising. To create an unforgettable shopping experience, retailers should focus on the way they arrange and promote their products in-store. Rather than relying on aggressive sales tactics, retailers should strive to delight their customers by marketing products in innovative ways that make the shopping experience enjoyable and memorable.
To elevate the in-store shopping experience, consider incorporating innovative technology such as a robotic POS display like Tokinomo. Traditional in-store marketing solutions may fall short in captivating and engaging customers, but Tokinomo's cutting-edge technology can boost sales by up to 200% without resorting to price cuts.
2. More informational signage
In 2022, expect to see an increase in the use of informational signage in stores. Consumers are increasingly interested in learning more about products before making a purchase, with 80% conducting research online beforehand. Imagine the potential of providing engaging product information at the point of purchase without overwhelming shoppers. Here are two examples to consider:
Enhance your customers' shopping experience and increase sales by recommending complementary products that complement their purchases.
Create a memorable shopping experience for your customers by providing in-store styling tips that help them visualize your products in their everyday outfits.
3. Stores within stores
Discover the power of 'Stores within stores' in the world of visual merchandising in 2022. While this technique isn't exactly new, it's still a top trend that draws in customers. Create an unforgettable shopping experience by preparing pop-up shops inside your store.
Creating mini-stores inside your shop is an effective way to catch your customers' attention and increase sales. Whether you're launching a new product line or highlighting seasonal items such as Halloween costumes, creating a unique shopping experience will set you apart from competitors. By offering a designated space with curated displays and engaging decor, customers will be drawn to explore and make purchases.
4. Sustainability in retail
Sustainability is more than a buzzword in the retail industry. With alarming statistics revealing that a third of food in American grocery stores is wasted and fast fashion factories being the second-largest contributor to carbon dioxide emissions, it's high time for retailers to prioritize sustainability. By adopting eco-friendly practices and promoting sustainable products, retailers can not only contribute to the planet's well-being but also attract environmentally conscious customers.
Retailers must prioritize sustainability as consumers demand more eco-friendly options. According to recent studies, 51% of shoppers aged between 16 and 34 prefer to shop with retailers that have made consistent efforts to be sustainable. As a retailer, you can showcase your sustainability efforts through your visual merchandising strategies. For example, Patagonia is a brand that has become well-known for its sustainable practices.
Contrary to the common retail practice of pushing customers to buy more, Patagonia's sustainability ethos focuses on creating products that can last for years. They have even launched campaigns where they repair their products and return them to the owners to promote the idea of reuse. So, if you're looking for a sustainable shopping experience, consider investing in long-lasting products rather than just buying more.
5. Instagramable displays
Social media is an important aspect of modern retailing. Consumers are spending a significant amount of time on social media platforms, with an average of 145 minutes per day. By creating visually appealing and Instagram-worthy displays in-store, retailers can encourage customers to take pictures and share them on their social media profiles, promoting their brand to a wider audience.
Encouraging shoppers to share their in-store experience on social media can boost word-of-mouth marketing and drive foot traffic to your store. Incorporating emerging visual merchandising trends into your strategy can help attract more shoppers and increase brand awareness. Don't miss out on these tactics for 2022!