Miss Universe 2022 R'Bonney Gabriel – Everything You Need to Know
On January 15, 2023, R'Bonney Gabriel of America will take the title of Miss Universe 2022. Andrina Martinez of the Dominican Republic took the second spot, with Amanda Dudamel of Venezuela taking the third. Divita Rai competed in the Miss Universe pageant on behalf of India. The Miss Universe 2022 event was planned in the US city of New Orleans.
In the final round, R'Bonney Gabriel was posed a question, and by responding well, she not only won the championship but also the jury members' hearts. The next Miss Universe of the United States was crowned by Harnaaz Kaur Sandhu, who served as Miss Universe 2021.
R'Bonney Gabriel, Miss Universe 2022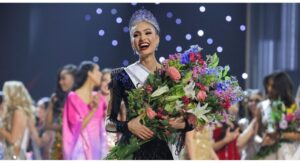 This year's Miss Universe has been crowned by R'Bonney Gabriel of USA. She won this title in the final round after overcoming the competitors from Venezuela and the Dominican Republic. The Miss Universe pageant had its 71st competition this year. Over 90 people participated in the tournament, which was held on Saturday, January 15, 2023 in New Orleans, Louisiana, USA. Only three of these participants made it to the final round.
They include Amanda Dudamel of Venezuela and Andrina Martinez of the Dominican Republic in addition to Americans. Divita Rai competed in the Miss Universe pageant on behalf of India, however she was only able to place in the top 16. Only one question was posed to all three candidates in the final round.
R'Bonney Gabriel: who is she?
Model and fashion designer R'Bonney Gabriel, 28, of the United States, prioritizes the environment in her work. She was born on March 20, 1994, in Houston, Texas, and earned a fashion design degree from the University of North Texas.
Prior to competing in the Miss Universe competition, she also worked as a model for years. In December 2021, she made history by being the first Filipino-American woman to win Miss Texas USA. She took home the Miss USA title in October 2022.
The Miss Universe Pageant: An Overview
The Miss Universe Organization, which has offices in Thailand and the United States, hosts the annual Miss Universe international beauty contest. It was started on June 28th, 1952. It is one of the four major international beauty pageants, along with Miss Universe, Miss World, Miss International, and Miss Earth. The Miss Universe Organization welcomes participants from all origins and cultures. It is a worldwide organization.
How did R'Bonney Gabriel take home the title of Miss Universe 2022?
The Miss Universe 2022 competitors gave it their all, showcasing both their beauty and intelligence. Yet just one would go with the title of Miss Universe 2022. It ultimately came down to R'Bonney Gabriel of the USA.
In response to the inquiry, "If you win Miss Universe, how would you endeavor to make it seem like a powerful and forward-thinking organization?" she stated. is what earned her the title of Miss Universe 2022. She stated the following.
"As a leader, I want to change the fashion business. I put forth a lot of effort till I was 13 creating clothes. I want to utilize fashion for good, therefore. I make an effort to lessen pollution by using recycled products.
Everything of this will be provided for Miss Universe 2022, save the diamond crown.
The first winner is the universe's most attractive and smartest lady. The Miss Universe crown is said to have cost 5.75 million US dollars.
"Force for Good" is the moniker given to this crown. With a total of 993 stones, it is entirely handcrafted. It is embellished with 48.24 carats of white diamond and 110.83 carats of blue sapphire.
In addition to this title, Miss Universe has received financial awards. Also, the corporation will pay all of America's R'Bonney Gabriel's expenditures for a whole year.
She will also receive a one-year lease on an apartment in New York as well as skin care goods, jewelry, shoes, clothing, and cosmetics.
Also, she will be reimbursed for her lodging and travel costs for a full year by the organization that oversees the Miss Universe competition.
Also, Miss Universe will get a team of photographers. Miss Universe R'Bonney Gabriel will have to take part in interviews, premieres, events, and charity shows in return for all of these perks.
Also, for a full year, the Miss Universe assumes the role of Chief Ambassador for the Miss Universe Organization.