How to reset AirPods and AirPods Pro and remove AirPods Apple ID
You're prepared to transfer or sell your AirPods. Or perhaps you want to resolve a problem you're having. Continue reading to learn how to delete the AirPods Apple ID and how to reset the AirPods and AirPods Pro.
Setting up the headphones, automated pairing, and other features are all a big part of what makes Apple's AirPods so magical. But, taking the effort to reset AirPods might help if they're not functioning properly or charging.
It's interesting to note that one of the security features of the AirPods gen 3 and AirPods Pro (AirPods Max is also affected) might be problematic for refurbished or used AirPods because the regular factory reset procedure does not eliminate the AirPods Apple ID connected with it.
Moreover, if your old AirPods aren't worth selling or giving away, check out our instructions on what to deal with them:
7 alternatives for replacing, selling, and recycling worn-out AirPods
Let's examine what to do in each situation.
How Do I Reset AirPods?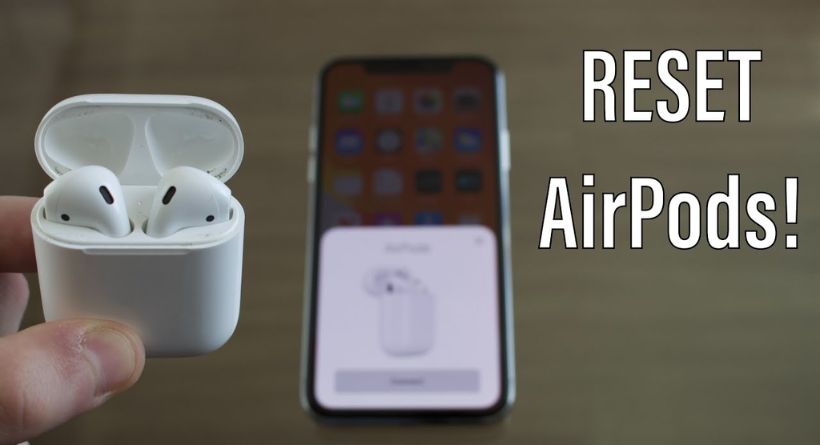 Your Apple ID is immediately linked when you initially connect your AirPods to your iPhone.
Thus, none of your Apple devices or your AirPods need to be paired. It instantly connects to your iPad, Mac, or Apple Watch.
This is made possible by cloud syncing. Your devices' AirPlay menu will now show your AirPods.
For any of the devices you are utilizing, you must choose them. The AirPods might be deleted from your account since they are intimately linked to your Apple ID.
It's just as easy to do that as to couple them in the first place. Your AirPods are removed from all of your devices when you unpair them.
At this stage, they are in brand-new condition. All Apple devices require the same processes.
You should do the following actions while resetting:
How To Remove Airpods From Apple ID
Make sure that the AirPods are in the case when resetting.
Throughout the operation, the case's lid should be shut. For roughly a minute, the AirPods should stay in the case. The case's lid may then be opened.
Go to the settings app and select Bluetooth.
Go to the list of the associated devices from there. Under the devices tab, a list of devices should include your AirPods.
Select the "i" next to your devices.
You have a few alternatives from here, including "Forget this device." Choose the option to disconnect your AirPods from any connected devices.
With the lid still open, locate a small button at the back of the charging case.
The button on the case's rear should be pressed and held down for about 12 seconds. The state of the case will be shown by a flickering amber hue. If the button has been successfully unpaired, you can release it.
Whether they are paired or not, your AirPods may be unpaired from your Apple device. Your Apple account will no longer have access to the earbuds.
Checking the success of the unpairing is another option. To do this, launch the Locate my app program.
You may view a list of all your devices from there. The list shouldn't include your AirPods. When using AirPods, there is a peculiar issue.
They automatically give themselves names when you initially link them with your device. The AirPods should ideally be renamed before being given as a gift.
How To Rename Your AirPods Pro and Change Other Settings?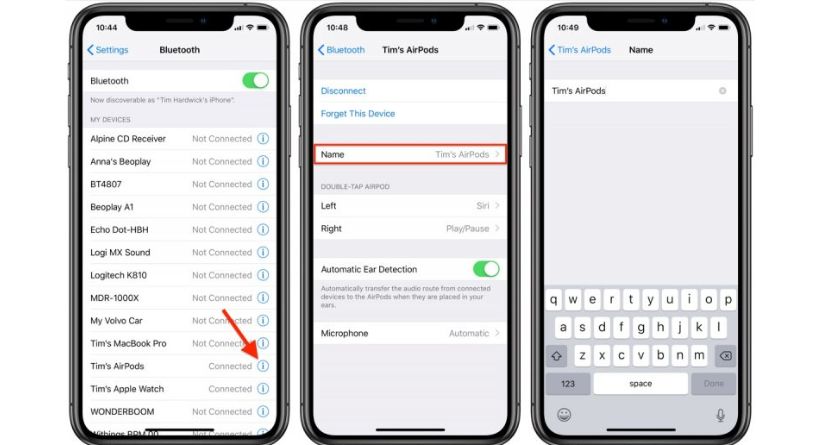 The settings for your AirPods Pro are similar to those for your AirPods Max.
You ought to start the lawsuit.
Open the settings app on your iPhone and choose Bluetooth.
Your AirPods Pro should appear in the list of devices; select them by clicking the I button.
You can choose to do any of the following from that option:
By choosing the existing name, adding a new name, and selecting "done," you may change the name of your device.
With the noise control button on your AirPods Pro, choose between the available settings. iOS 14.3 or later is the only version that supports this functionality. A checkbox that specifies the selected mode appears once you choose a certain option.
The automated head detection may also be turned on or off. Moreover, iOS 14.3 or later is required to use this function. Because of this function, the AirPods recognize when they are on your head if the Automatic Head detection option is enabled. They automatically start playing music from your phone and stop when they are removed.
Your microphone's position can be changed. Always left, always right, or automated are all valid options. You should tap the microphone to select the option you want. Any of your AirPods may serve as a microphone while they are on automatic. One of them at a time, that is.
Using this option, you may also break up your AirPods' pairing. You select the option to "forget this device." You guessed it—the forget this device option will cause your AirPods to be unpaired and forgotten.
Closing Thoughts
Your AirPods will eventually need to be updated, and that may happen at any time. Your older AirPods are left, and you're not sure what to do with them. If you misplace your new set, you might choose to keep them as spares.
You could want to give them as a present to a friend or a member of your family, though. To make it simple for the other person to use your AirPods, you must unpair them from your iCloud account. Also crucial is cleaning them. It can be the ideal opportunity to make someone happy as the holiday's approach.