GET A PANORAMIC VIEW OF GULBERG LAHORE'S BEST ROOFTOP RESTAURANT SKYE RESTAURANT.
The Skye Restaurant, Lahore's greatest rooftop restaurant, is perched on the hotel's 18th level and makes for the ideal area to relax. Take a seat on our rooftop patio and enjoy the expansive views. You may see our cooks in work and enjoy the views of the rooftops thanks to the open-concept kitchen. Our dishes use flavors of the season and our head chef and his crew use fresh ingredients every day. Whenever feasible, we use high-quality, fresh goods that are sourced as locally as possible.
FEED YOUR HUNGER WITH THE BEST ROOFTOP BUFFET IN THE SKYE RESTAURANT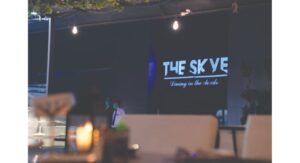 Taste the flavorful genuine Pakistani and Desi food that our professional cooks have lovingly made. Our chefs combine ancient methods with a modern, cultural spin to produce mouthwatering cuisine. A one-of-a-kind flavor combination that will satiate your taste buds will be available for you to sample. We think of ourselves as one of the greatest rooftop restaurants in Lahore since we provide a wonderful rooftop buffet that offers not only delectable cuisine but also lovely views and a relaxing ambience, making for an excellent outdoor restaurant experience altogether. A variety of delicious meals are available at the buffet at an affordable price. The buffet includes a wide range of curries, mutton, biryani, BBQ, and a wide selection of mouthwatering sweets.
The best rooftop dinners are served at The Skye.
The Skye offers you an upscale, reasonably priced ala carte menu from which you may choose any dish. It offers authentic Pakistani food. The menu is divided into many sections, from appetizers to drinks, and each section offers a wide selection of delectable foods, enticing you to eat everything. Some of the most well-liked meals on the menu are the special skye chicken karahi, special skye mutton karahi, Zaitoni handi, Rajasthani handi, Tawa qeema, mutton biryani, Chicken and Beef Teriyaki, and Beef Teppanyaki. The Skye is known for its barbecue and provides a wide range of dishes, including the Skye Special Charcoal Platter, malai boti, Persian boti, mutton lamb chops, kebabs, and more. You may enjoy the ideal rooftop supper with stunning views and a calming atmosphere.
AT THE SKYE, DELICIOUS ROOFTOP HI TEA IS SERVED
The Skye should be on your list of "rooftop restaurants close by" since we provide both an opulent Hi tea and a delectable supper. What could be better than sipping tea outside while savoring delicious pastries and taking in a stunning view? In a dynamic setting, we offer a variety of cuisines. Hi Tea provides a variety of cuisines including biryani, seafood, chicken tikka masala, kebabs, salads, spaghetti, pieces of pizza, and more. a selection of sweets, hot tea or coffee, and a section with a choice of selections. Skye provides live music for their visitors' entertainment and creates a musical atmosphere for them to enjoy. For a lovely rooftop hi tea experience in a tranquil setting, go to The Skye.